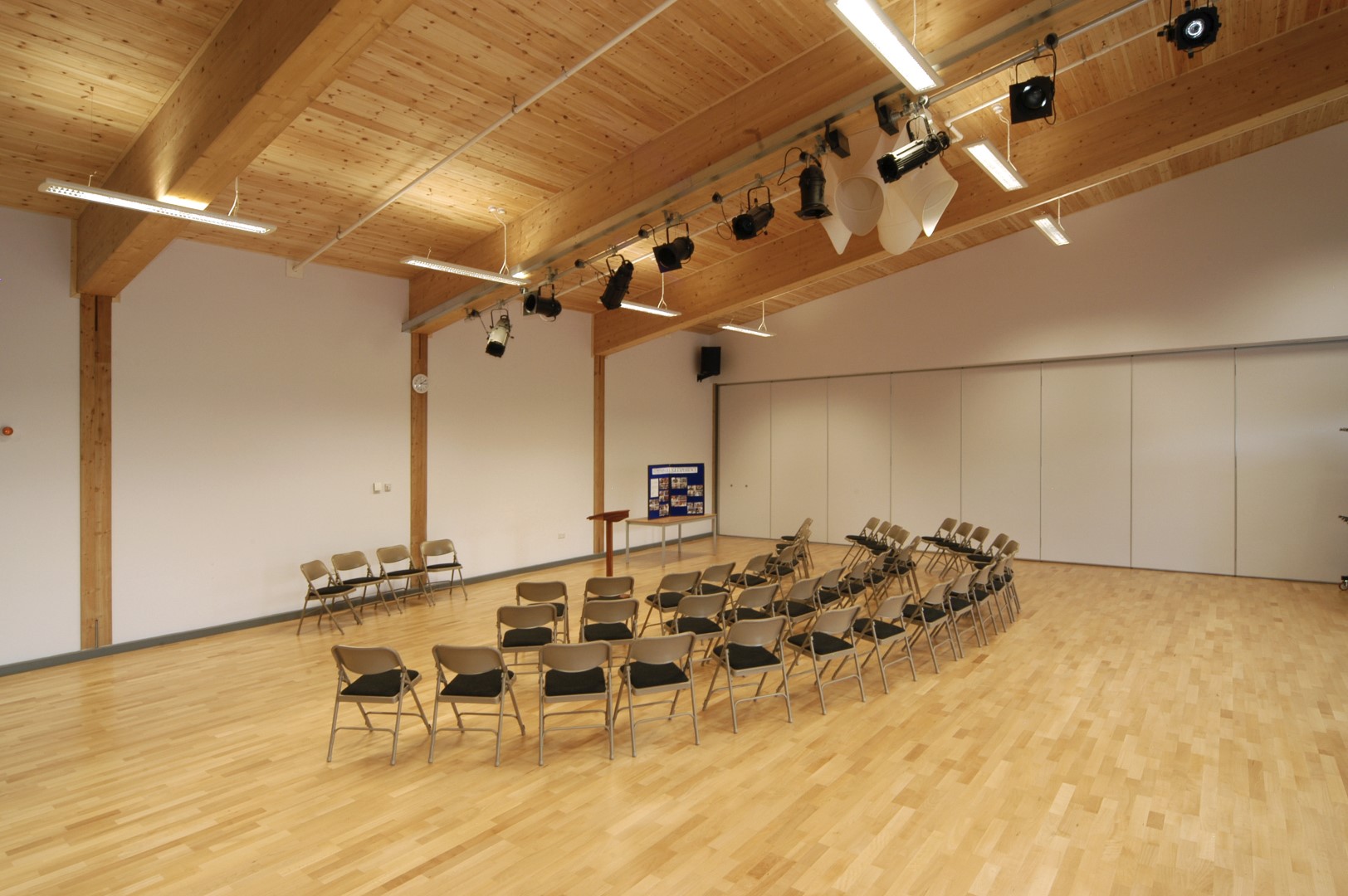 Facilities & Venues
The Castle Rock boasts an extensive range of facilities which are available to hire to the community outside of school hours. Facilities include a series of sports pitches, courts and swimming pool, a large assembly hall, meeting spaces, ICT suites, classrooms and drama studio.  
The Sports Hall - is equipped with six basketball hoops and can be configured as one full-size playing court or two half-size courts, with dividing net. There are also markings for badminton, volleyball and netball. Cricket nets are installed and there are viewing windows from the dining hall on the upper floor. Available evenings and weekends. 
The Outdoor Sports Area - is a versatile hard-surface tarmacadam area surrounded by high fencing. It is marked out for two tennis or netball courts, but can be used for a variety of athletic purposes. This area is available during daylight hours only as there is no floodlighting. 
The Swimming Pool - Length 25m – Width 10m – Shallow end: 1m – Deep end: 3m- Male / Female changing rooms. 
Meeting Spaces - We have numerous areas that are suitable for small gatherings and larger spaces capable of hosting large-scale events. 
The Assembly Hall - can comfortably accommodate up to 180 seated delegates (without tables) and has a stage with full audio-visual facilities, stage lighting and a hearing loop. There are other layout options available that include tables for smaller groups. Refreshments can be provided. 
Our Classrooms - make excellent spaces for groups of up to 30 people to meet. All of our classrooms are equipped with audio-visual facilities (Windows 7 computer, projector, interactive whiteboard and speakers). 
ICT Suites - are also also available to hire, seating up to 32 delegates and a group leader. All ICT suites have fast, modern workstations with Windows 7 and Microsoft Office 2013. An ICT Technician can be on-hand for the duration of the booking at additional cost. 
The Drama Studio - is available for rehearsal, dance and fitness class purposes. It has full classroom ICT facilities, theatrical lighting and black-out curtains. 
Facilities are available for one-off lettings, block bookings and short term bookings during the evenings, weekends and school holidays. For more information please contact the Facilities Office via our main telephone number, or click the below link.